The principles of Shinseikai Toyama Hospital
The name "Shinseikai" is built from three Japanese characters: "shin," meaning "truth;" "sei," meaning "live;" and "kai," meaning "a gathering of individuals who share the same values." Therefore, the name "Shinseikai" indicates "a gathering of individuals dedicated to practicing true medical care."
We believe "true medical care" is care based on the principles of Buddhism, which leads all to true happiness.
We aim to offer our patients peace of mind and satisfaction, so we do our utmost to provide quality medical care based on the Buddhist principle of "benefiting ourselves, benefiting others," which means that bringing happiness to others brings ourselves happiness.
To achieve this end, we always take care to treat our patients with gentle smiles and warm words. This, too, is one of the principles taught by the Buddha, one of the noble deeds he specified to bring happiness to others.
At Shinseikai Toyama Hospital, our mission is to provide medical care that supports our patients so they can live out their lives with no regret.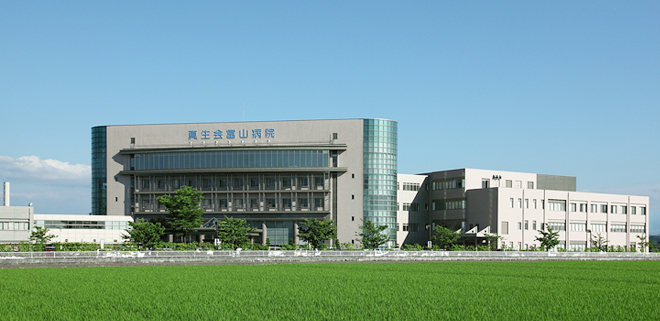 Outside view of Shinseikai Toyama Hospital
Hospital Outline
Name of Hospital
Shinseikai Toyama Hospital (Shinseikai Medical Corporation)
Medical Director
Yasuhiro Manabe
Address
89-10 Shimowaka, Imizu City, Toyama 939-0243
Telephone
+81-766-52-2156
Fax
+81-766-52-2197
Medical Departments
Internal Medicine, Surgery, Pediatrics, Orthopedics, Otorhinolaryngology, Dermatology, Plastic surgery, Ophthalmology, Anesthesiology, Psychosomatic Medicine, Psychiatry, Neurology, Radiology, Urology, Gastroenterology, Respiratory Medicine, Rehabilitation, Nephrology, Hematology, Cardiovascular Medicine, Diabetes/Metabolic Medicine, Palliative Care Medicine
(as of 1 May 2020)
Hospital size
Site area: 45.825.38m²(Including the fifth parking lot area of 1,852.74 m2)
Floor area: 19.601.849m²
(as of 1 April 2021)
No. of staff
509
(as of 1 April 2022(Excluding part-time and temporary employees))
No. of beds
99 general beds
No. of patients
2020 Records
Total No. of Inpatients: 36,757 Outpatients: 283,651
Average stay in hospital (general): 8.0 days
Japan Medical Service Accreditation for International Patients (JMIP)
Shinseikai Toyama Hospital has been accredited by Japan Medical Service Accreditation for International Patients (JMIP) by meeting a set of requirements related to the acceptance of international patients. In addition to having Chinese and English medical interpreters on staff, we also offer a multilingual communication system using telephones and tablet devices.
Even if you have difficulty communicating in Japanese, rest assured that we are happy to provide support for consultations.
(as of February 2021)
Medical Interpreting service
Available languages
Operating Hours
Telephone interpretation
English, Chinese, Korean, Vietnamese, Portuguese, Spanish, Russian, hai

* Advance reservation required
Hindi, French, Mongolian, Tagalog, Nepali, Indonesian, Persian, Burmese, Cantonese

from 8:30 to 24:00
everyday
Internet phone
interpretation
Video interpretation
English, Chinese
from 8:30 to 18:30
on weekday
Machine translation
English, Chinese, Korean, Vietnamese, Portuguese, Spanish, Russian, Thai
Available at anytime
Accompanying English
medical interpreter
English
from 10:45 to 19:30
on Monday, Wednesday, and Friday
from 8:00 to 12:00
on Saturday
Accompanying Chinese
medical interpreter
Chinese
from 8:30 to 17:15
on Monday to Friday
Information for foreigners(For non-Japanese people from Overseas)
At Shinseikai Toyama Hospital, all care for patients who have neither nationality of Japan nor Japanese health insurance qualification is charged at a rate of 20 yen per one medical remuneration point from April 1st, 2019.
For those without a valid Japanese health insurance card, we may ask to show identify confirmation document with your photo (a resident card, passport, etc.) at the reception counter.
For tourists / temporary visitors: If you are covered by an overseas (or travel) medical insurance plan, please show us the insurance certificate.
* We will confirm your identification card in order to avoid the major incident of misidentifying a patient and to make a statistical data to report nationalities and languages that are used as a hospital that is certified for accepting foreign patients. We ask for your understanding and cooperation.
* If you have any concerns about medical expense payment, please contact us in advance.
If you have any questions about consultation, please feel free to contact our International Medical Support Team.
Available Credit Card
For any inquiries regarding your payment, please contact the Medical Affairs Division.
* Credit cards are not accepted on Sundays and National Holidays, at night, and outside of normal consultation hours.
About Medical Interpreter
If you are non- or limited Japanese proficiency, you will need to be accompanied by a medical interpreter whenever you visit our hospital so that we can provide safe medical care . We also have a language support system to provide medical interpreting service for patients. However, we kindly ask for your understanding as they may be unavailable depending on the hours or on languages.